From Ronald, Colonel Sanders, Jack the Snowman, and Little Caeser, to more contemporaneous ones such as the Lonely Asian guy from Bao, food characters played an important role in how we relate to food brands.
As you know, these PosterBoys for food companies have been around for quite some time.
They have evolved through generations, from being mostly a way for fast-casual brands to infuse joyful emotions into their identities to a more rich communication vehicle, from which we can relate not exclusively through our brain's short-circuited rewarding system.
At Bodega we believe characters can be a top-notch branding tool. One that can "awaken" the brand storyline with just one impact or imagery.
1. STRONG STORYLINES AS BASE FOR STRONG CHARACTERS
---
One of the things that separate good work from great ones, especially in the field of illustration-based characters is to methodically build the briefing with a strategic mindset.
Instead of choosing inadvertently a style of illustration and losing yourself in the iteration process, hoping that the magic will happen at some point, what we like to do at Bodega is understand the Brand Hero's journey. Where this character came from originally, how he got to be associated with this brand message and how to express the shared values they have (brand/product/audience).
This set of important strategic definitions can set the tone for a great and assertive character, that will evolve well with time, empowering the brand message and not confusing it. With these definitions, you'll be ready to choose better the style/trace and build a rich set of possible scenarios, wardrobes, and postures/movements.
Whatever direction you go, don't forget. You'll only achieve greatness if the illustration manages to deliver some kind of emotional reaction.
So don't be fooled. Emotions are and always be key for decision-making in the process of choosing where to go when you're hungry.
2. WE THINK THAT JOY SHOULDN'T BE THE ONLY DESIRED EMOTIONAL OUTCOME FOR FOOD BRANDING. AND WE ARE NOT ALONE!
---
Feeling underestimated or undervalued is super relatable, right? Won't you feel connected with the idea of a sandwich company that showcases its products utilizing introspection as a power tool? How about portraying the mascot in a powerless and voiceless cute but crestfallen sandwich?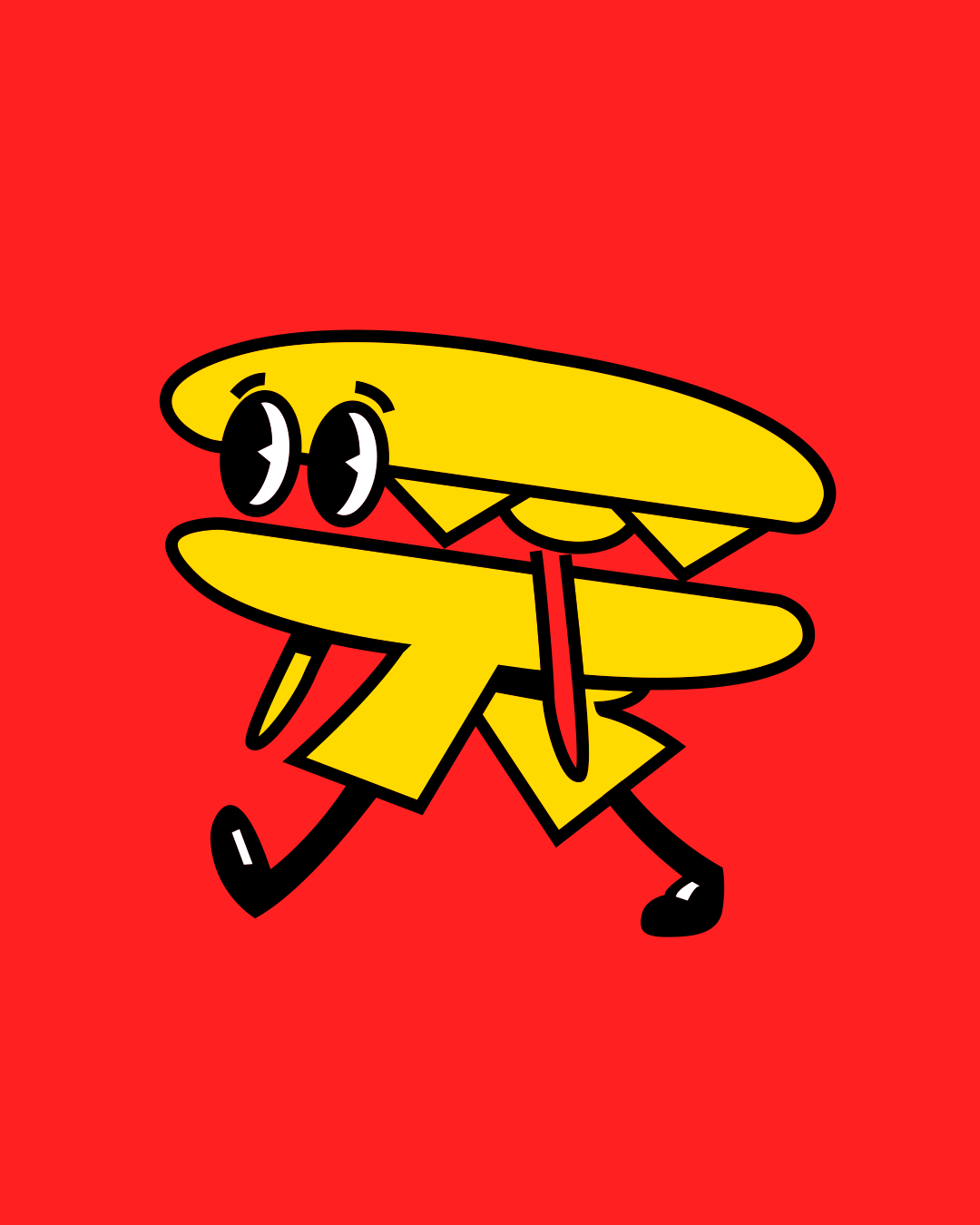 By the way, that might be the shared feeling among independent food entrepreneurs from time to time, so we thought that it might be wise for this emerging local sandwich shop that aims to compete with high chains such as Subway to present itself with truthfulness. See. We are building empathy through vulnerability here. It's quirky and super relatable.
Like Subestimado, there are tons of other characters in the industry that entertain the idea of expressing different emotions with their gimmicks. An internationally renowned player of Asian cuisine(mostly Taiwanese), Bao from London uses the same idea of challenging the desired outcome of their brand assets, as you can also see in this IT'S NICE THAT article. Their branding plays around the idea of hosting the spirit of the common Asian man, lonely, and full of resentment as their gimmick expresses perfectly. If you're not familiar with it, imagine Andy Capp selling fish and chips in a hip way and you will understand it better. The resentfulness and introspection from the illustration will be obviously turned upside down whenever you eat there. Their Bao's and retail experience will make you feel energized and full of content.
The question you should ask yourself when building your brand is what possible emotions you want to put the spotlight on. What sensations does my product have the will or capability to be associated with? You may see that joy or fun is not the only way to go. And that can be a game changer.
3. EXPRESSIVE DETAILING
---
At some segments of the food&beverage game, such as the Virtual Restaurant one, a single chance to show&tell is what you have. So being assertive with the brand messaging is super important. Also important is to build the character to its details. This way, you'll have some fun a-ha moments when consumers really start to pay attention to the brand materials, which gives you a lot of extra "love brand" points.
A bird that has the role of embodying a wild, young&free type of personality will definitely seem overconfident. We wanted it to have a braggy personality. So we went for a full unapologetic chicken burger brand messaging. From there, we built some nice correlation between the brand packaging and its character in the communication.
As showcased above, The Yellow bag is an asset created to be all around the brand comm. It builds desirability to the packaging system while helping the character to feel attached to the product. From a Delivery perspective, this illustration details in the visual identity can really make a difference in the feeling of receiving the yellow bag at home with time.
Another example, for Frido The Wingo, a Mexican soon-to-be chicken wings shop, we built a cool and fresh type of character. A super sleek Chicken named Frido rocks a cool red bandana on his collar. The same bandana will be used by the employees in-store, which brings context to the off-on relationship. Also, an interesting easter egg here is his Unibrow. You might say it is an homage to the amazing Frida Kahlo (also Mexican). We won't correct you. So, who knows…
The brand-building is an ever-evolving relationship between the brand image, actual performance, and its will to develop its own desired identity.
So when trying to emulate your brand ethos into a charismatic character, do it mindfully.
Choose the values and sensations to build up and start the character journey from within.
Or even better, send us a message. We'll be glad to walk you through this challenge.
Cheers,
Eduardo Brandalise
Co-Founder Bodega
---
Enjoyed the points we've shared here? Wanna grab a bite or maybe discuss your challenge with us?
We promise to provide some insights on how to make your brand stand out.